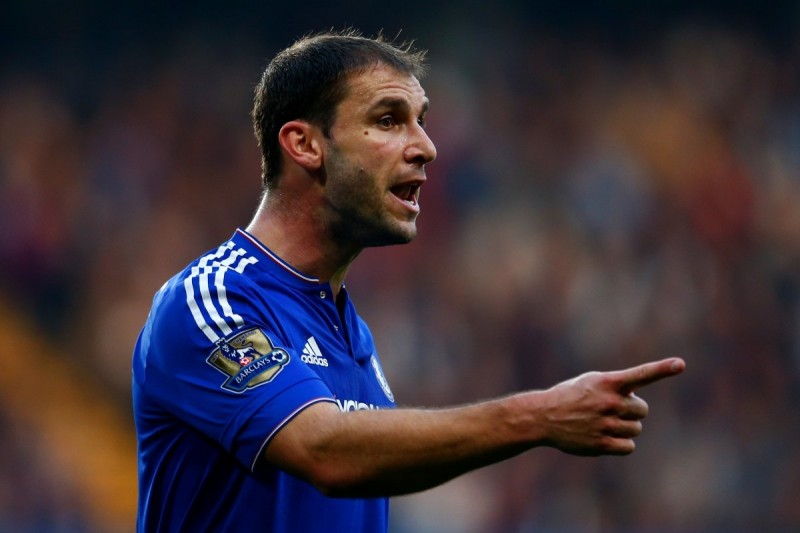 CHELSEA FAN VIEW: 10 Players Chelsea Must Drop
Shocking article I found on Yahoo today... but is it?? :

1. Branislav Ivanovic - Shocking selection, I know. Last season he was a defensive wonder of the football world. A giant boulder who had stamina and guile to operate as a wingback and striker's instincts in set pieces. The transformation to the sorry state he is suffering now was not wholly unexpected, but the speed with which it happened is what is surprising. Chelsea have a policy of not holding on to players past the age of 30, but Mourinho was adamant to keep him, rewarding him with vice-captainship. If you ask anybody who knows anything about the EPL, they'll almost certainly say Ivanovic should be the first to go.

2. Cesc Fabregas - Imagine you have to buy a new car that can take the wife and the kids around. It is a car that needs to be reliable, and you have enough money to buy it because you are a Russian oil mogul. So you choose to buy an Alfa Romeo from 1992. It surely must be a great purchase! It had its glory days in the past, it has excellent reputation, and it has wonderful flair. But it's an Alfa. And it's way past its due date. After a one year romance it begins to disappoint you. But it's your only car, so you suffer in silence, and remain indignant about your investment. That is basically what Fabregas is. A lackluster burden that Jose Mourinho chooses to keep playing, despite him being completely impotent in every aspect of the game. The marquee signing of last year with the great assists has become complacent and lazy. No pace, no defensive determination, no creative effect. Time to sell the Alfa. To Turkey. Or MLS.

3. Ramires - After a long battle with injury, Ramires returned to the squad and Jose was delighted that he "had his Ramires back." A definitive box-to-box player with goalscoring abilities coupled with tackling back with aplomb. He hit a howitzer against Newcastle, and as great as it was, I'd happily accept that as a final contribution of his career in London. He was woeful against Southampton, and the Brazilian was supposed to continue his super-sub magic from Tyneside but failed horribly, in the most important part of the pitch, next to the least appropriate defensive midfielder, Fabregas.

4. John Terry - Chelsea's leader, legend, and liability. He is so committed to the club and to playing for them as exemplified by the embarrassing tag-along at the Champions League final in 2012, appearing in full kit at the final whistle despite being banned for the match. He was a stalwart last year, his positional sense and anticipation was second to none. In the entirety of the season he had TWO yellow cards. He got one in the first match of this year against Swansea for protesting. And obviously screwed the pooch against West Brom with a sending off. Controversial and almost universally hated, nationally hated for sure, John Terry is a mixed bag of good and bad. Again, I think the ride is over for him, but he can still be useful. In the backroom, and at Cobham. Once a new center back is bought, Jose should have "the talk" with John and say he can either bring a neck pillow to the bench for the games, or go out gracefully and immediately to take a background role, still teaching the youngsters and giving coaching advice. Like they say, "Those who cant do, teach."

5. John Obi Mikel - This one is a mercy killing. He was inches away from a move to Turkey that would have seen him get regular playing time. A chance to play while he's still relatively young, and a chance to express himself in ways to make Chelsea regret keeping him in reserve for so many years. It's such a sad story of John Obi Mikel, a dedicated, dutiful servant to the club. The man who carved out a new temporal part of games known as "John Obi Mikel Time," when the game needs to be shut down, usually with the win in the bag. If Abramovich let Čech go because he earned it from his service, the same should apply to Mikel. I think Andreas Christensen from the youth squad would make a great successor. Just don't let him go to Arsenal, he doesn't deserve to be reviled by the Chelsea faithful.

6. Loïc Remy - Ugh… I just-… There's no reason wh-… He's so-… Just get rid of him.

7. Pedro - Playing fourth fiddle to Barcelona's front line has Pedro dealing with repressed feelings of discontent like a man in a midlife crisis. He is trying to make up for lost time on the bench in Spain by trying to be the Messi of Chelsea. 28 years old, Pedrito is tired of being treated like a kid and as a sideshow. He is snatching at shots and dawdling on the ball with desperate faith in his impressive displays of footballing grace. I was blown away with his contributions at West Brom, a goal and an assist on a debut is a remarkable thing. His goal was a sort of frustrated expression at Chelsea's wastefulness. Like he was saying, "Okay, guys. It's been twenty minutes. Let's get this show on the road." He took the onus on himself, running through defenders with a point to prove, and scuffing the ball into the corner. Since then he has failed to impress. Being caught in possession, scoring rugby tries instead of football goals, and generally displaying symptoms of the Chelsea Plague that the rest of the squad is suffering from. I don't think he should be sold, but he should be given a good, hard shake, and snapped back to reality.

8. Ruben Loftus-Cheek - "Drop" is the wrong word, but "loan" is almost certainly the best course of action for a midfielder with so much promise. Ross Barkley isn't much older than RLC, and he is a starter for Everton, with fantastic displays of passing range and creativity. He had to prove himself as a younger player, but that is predicated on the manager at least selecting him. RLC isn't getting a look into the first team, and many Chelsea fans see him as our savior as a fresh injection into midfield. This lack of involvement looks to be endemic of the type of treatment poor Obi Mikel has suffered. Either play him or loan him out to a team where he can make an impact, Jose. He has potential not seen every day.

9. Falcao - Every hedge fund and asset manager in the world must be equal parts jealous and impressed by Monaco for making a profit off of a depreciating asset. He made astounding amounts of money at Man Utd, and although he is making half the amount at Chelsea, the French Riviera club are enjoying their cigars and martinis with a little more relish knowing his utter failure as a footballer grates no skin off their back. When Mourinho spoke out about how he was willing to take the Colombian under his wing, I bet Monaco was more than happy to dump their lemon on him. Passing on the buy-option, he's just another wart on the face of Chelsea that'll be gone soon. Here's to hoping the blemish doesn't become septic.

10. Diego Costa - Oh, Diego. How we love you. We chant your name at away matches where you aren't even on the bench. We chant your name at will, because you make us happy. You are the quintessential bad guy who we root for. But the cost you bring with the occasional goal is far too high. Dribbling in from the left wing always ends in failure. Your hold-up play leads to naught. And you punch too many people in the face too often. You have forced Chelsea fans to defend you and the image you project on us by association. You are no altar boy, you said it yourself, but being an effective striker does not entail being a sociopathic one. A great finisher with height and strength is a wonderful asset. A violent, ineffective, sluggish, and selfish player is a millstone.
Comments:
---
---